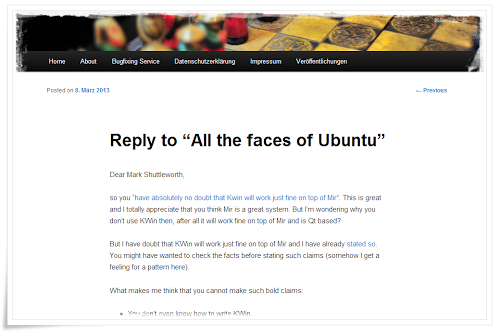 Il recente
post rilasciato nei giorni scorsi
da Shuttleworth sullo sviluppo di Ubuntu e sopratutto i dubbi sul rendere o meno la distribuzione una Rolling Release ha sorpreso la comunità KDE sopratutto su alcune affermazioni riguardanti il
supporto del nuovo server grafico MIR su KWin
.
Shuttleworth ha scritto: "I've absolutely no doubt that Kwin will work just fine on top of Mir. And I'm pretty confident Mir will be on a lot more devices than Wayland." indicando di essere sicuro del supporto di MIR in KWin oltre ad indicare che il nuovo server grafico sarà in molti più dispositivi confronto Wayland.
Da poche ore è
arrivata la risposta
da parte di Martin Gräßlin principale sviluppatore di KWin (il window manager di default in KDE) nel proprio blog: "
But I have doubt that KWin will work just fine on top of Mir and I have already stated so. You might have wanted to check the facts before stating such claims (somehow I get a feeling for a pattern here).
" indicando che attualmente KWin non supporta MIR ed inoltre ci sono anche molti dubbi se sarà supportato o meno.
Inoltre Gräßlin ha indicato che in data odierna il numero di commit per KWin da parte di Canonical è 0 (zero) nessun dipendente di Canonical ha contatto il team di KWin su come integrar Mir.
Probabilmente Shuttleworth sta già pensando al futuro convinto che il nuovo server grafico non abbia problemi con KWin e altri window manager.
A mio avviso poteva almeno parlare con qualcuno di KWin prima di pubblicare certe affermazioni…