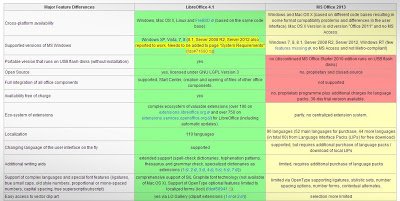 L'arrivo di
LibreOffice 4.1.x
ha portato moltissimi migliorie all'intera suite per l'ufficio rendendola sempre più completa e funzionale.
Tra le novità a
pprodate in LibreOffice 4.
1 troviamo anche la nuova SideBar grazie alla quale è possibile accedere velocemente ai nostri strumenti preferiti, la nuova versione include inoltre moltissime ottimizzazioni compreso anche un miglior supporto per l'importazione ed esportazione di documenti nei formati di Microsoft Office.
Tutte queste migliorie sono state inserire nella nuova tabella di comparazione realizzata dalla The Document Foundation che mette a confronto le principali caratteristiche di LibreOffice 4.1 con Microsoft Office 2013.
La tabella di comparazione rilasciata da The Document Foundation ci fa notare come tra le due suite per l'ufficio non ci sia poi cosi tanta differenza (tranne che una è open source e gratuita e l'altra proprietaria e pagamento). Guardando bene LibreOffice offre anche alcune funzionalità in più che non Microsoft Office esempio la suite open source è disponibile anche in modalità portable per Windows, è disponibile per qualsiasi sistema operativo (MS Office non c'è per Linux e FreeBSD in ARM la troviamo solo preinstallata con MS Windows 8), consente di esportare documenti in PDF con svariate opzioni, supporta anche l'importazione di formati come SVG, PSD e l'importazione di file multimediali nei formatiFLAC Audio flac, Flash Video (flv), Matroska Media, OGG Audio, Ogg Video, Quicktime Video e WebM Video ecc.
MS Office però offre il supporto per dispositivi touch, la possibilità di salvare o sincronizzare documenti in storage cloud, e il supporto per i file in formato MEZ, WMZ, PCZ, CGM.
LibreOffice pian piano sta raggiungendo i livelli di MS Office il tutto offrendo un suite per l'ufficio gratuita e libera da licenze, restrizioni ecc, c'è da chiedersi perché uffici pubblici, normali utenti, aziende utilizzino ancora un software proprietario (molto spesso craccato) quando gratuitamente possiamo avere un software in grado di fornirci le stesse funzionalità… W l'open source W LibreOffice