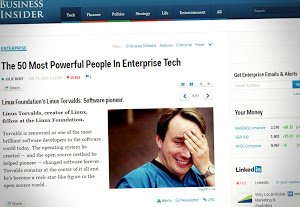 Il famoso portale Business Insider ha annunciato l'ingresso di Linux Torvalds tra i 50 Powerful People In Enterprise Tech.
In concomitanza con l'annuncio della
nomina di Richard Stallman
come membro della Internet Hall of Fame dal Business Insider arriva la notizia dell'inserimento di Linux Torvalds nei
50 Powerful People In Enterprise Tech.
Per chi non lo sapesse Business Insider è un'importante portale statunitense da anni impegnato in news su nuove tecnologie informatiche ed economiche da tutto il mondo. Business Insider inoltre ospita esclusivi convegni a tema oltre a fornire dati e analisi del settore della telefonia mobile inoltre pubblica anche una speciale sezione dedicata alle Enterprise Tech
persone che grazie ai loro progetti stanno cambiando il nostro modo di vivere
.
Ad un'anno dal premio
Millennium Technology Prize 2012
Linux Torvalds
ha ricevuto la nomina
tra i 50 Enterprise Tech da Business Insider indicando sul portale "
Torvalds is renowned as one of the most brilliant software developers in the software world today. The operating system he created — and the open source method he helped pioneer — changed software forever. Torvalds remains at the center of it all and he's become a rock-star-like figure in the open source world
".
Secondo Business Insider il creatore del Kernel Linux e della Linux Fondation ha cambiato il mondo del software rendendolo libero e alla portata di tutti.
Complimenti a Linus Torvals per questo prestigioso riconoscimento.