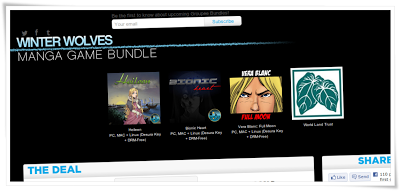 Manga Game Bundle è una collezione di giochi prodotti da the Winter Wolves studio da poco disponibile anche per gli utenti Linux.
Proprio come
Humble Bundle
, Manga Game Bundle offre una raccolta di giochi in offerta a basso costo in questo caso però avremo un costo minimo per acquistare il gioco. Per solo un dollaro (circa €0,77), gli utenti potranno acquistare 4 giochi e poterli installare tranquillamente su Linux, Windows e Mac. I giochi proposti in Manga Game Bundle sono Heileen, Bionic Heart, Spirited Heart, e Vera Blanc Full Moon. Gli sviluppatori stanno rilasciando anche i giochi sul piattaforma Desura, rilasciando ciascun game con DRM free.
Se il cliente sceglie di pagare un minimo di 5 dollari (circa €3,89), riceverà un'altro gioco denominato Planet Stronghold un anime fantascientifico RPG.
Gli sviluppatori di the Winter Wolves studio si sono impegnati a includere nel pacchetto base (ossia quello da 1 dollaro) anche Planet Stronghold se riescono a rilasciare oltre 4000 bundles.
Manga Game Bundle durerà ancora poche ore, se siete interessanti vi conviene comprare immediatamente la nuovo Bungle targata the Winter Wolves studio.