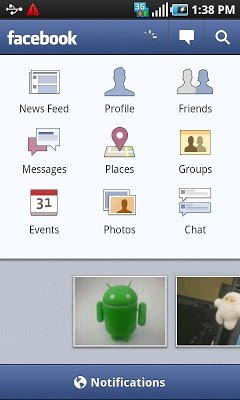 Dopo aver visto l'aggiornamento per
Twitter
in questi giorni sono arrivati nuovi aggiornamenti per 2 delle applicazioni più famose ed utilizzare su
Android
,
Facebook 1.6.1
e
Google Earth 2.0.2
.
Facebook per Android giunge alla nuova release 1.6.1 la quale migliora il supporto pagine e aggiunge la possibilità di visualizzare la lista completa delle pagine preferite cosi come per le pagine che amministriamo. Inoltre corregge numerosi bug che ne migliorano sopratutto la stabilità dell'applicazione.
Le novità del nuovo Facebook per Android 1.6.1:

Improved Pages Support.
View the full list of pages you like as well as pages you admin.
Post a page you admin.
Tag Pages in status update using "@".
Various Bug fixes.
Instant Google+ Invite.
per installare Facebook per Android basta cliccare su questo link
Google Earth per Android 2.0.2 migliora la stabilità sopratutto per utenti con sistema Android Eclair 2.1 inoltre corregge alcuni problemi con ipv6 e migliora la cache sopratutto su nuovi dispositivi con processori dual-core
Le novità del nuovo Google Earth per Android 2.0.2:
Re-enabled for Android 2.1 (Eclair) users.
Fixed problem with ipv6.
Increased cache size for multi-core phones.

per installare Google Earth per Android basta cliccare su questo link
Facebook per Android
Google Earth per Android