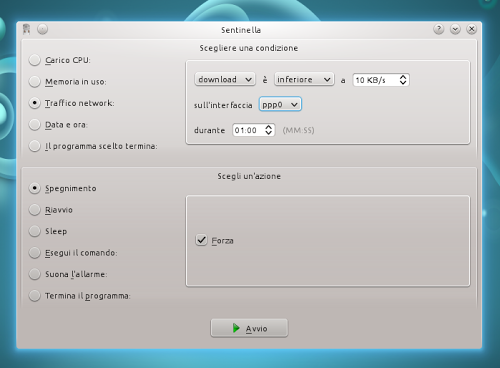 Sentinella
è fantastico programma il quale
monitorizza il nostro sistema
e può
compiere determinate azioni al verificarsi di alcune condizioni.
Per esempio possiamo
far spegnare il pc al termine di in download
, oppure in caso di disconnessione di rete possiamo riavviare il pc, in caso di
carico eccessivo di Ram o Cpu
terminare una determinata applicazione.
Semplicissimo da configurare permette di
spegnare o riavviare il pc anche ad un determinato orario
, ecc e molto altro ancora.
Le novità della nuova versione 0.8.1:
Added "what's this" tags to some ambiguous widgets.
Self-made stacked frames replaced by two QStackedWidget (each one connected with its QButtonGroup).
Modified alarm code to have a smooth repeat effect using queueing.
Fixed mem leak: finished actions were not deleted.
Code clean-up: Using radio buttons ids when possible.
Radio button's indexes unified.
Using deleteLater() in order to delete cancelled conditions.
GCC: Added flags: -flto and -Wlogical-op when available (>= 4.5).
Now it's compatible with libsysactivity >= 0.6.0 too
Per installare Sentinella 0.8.1 su K|Ubuntu 11.04 e 10.10 basta scaricare il pacchetto dal link posto sotto.
download Ubuntu 11.04 Natty i386
download Ubuntu 11.04 Natty amd64
download Ubuntu 10.10 Maverick i386
download Ubuntu 10.10 Maverick amd64

Sentinella 0.8.1 è disponibile anche nei PPA LffL Natty e Maverick per maggiori informazioni basta consultare QUESTA pagina