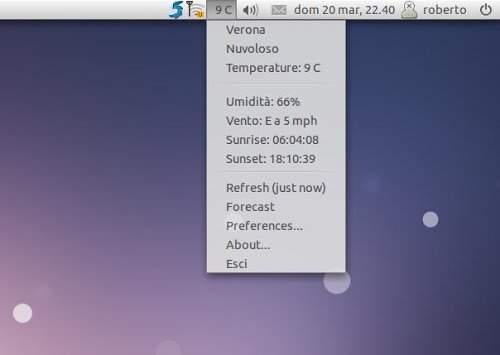 Avere sempre le previsioni meteo sulla nostra Distribuzione sempre sott'occhio sulla nostra scrivania senza tanti gadget, programmi ecc? Bene oggi tutto questo è possibile grazie a Weather Indicator.
Weather Indicator è un semplice applet (ora disponibile anche per Ubuntu 11.04 Natty), che una volta avviato andrà ad integrarsi nella nostra area di notifica, il quale ci fornirà informazioni aggiornate sulla previsioni meteo, temperatura, sensazione termica, velocità del vento, umidità e così via.
Con Weather Indicator avremo notificati gli aggiornamenti sui cambiamenti delle condizioni meteo, possiamo avere previsione anche dei prossimi giorni semplicemente con un click sull'icona.

Le novità della nuova versione 11.03.20 'Cloudy':
CouchDB integration – weather data is now cached and stored in DB. This should bring syncronisation of weather settings via Ubuntu One and show cached weather data when connection is not available
Integration with PyWAPI brings two weather data providers – Google and Yahoo.
Geonames DB integration brings much more available locations, including localized names.
Per installare Weather Indicator su Ubuntu 11.04 – 10.10 – 10.04 basta digitare da terminale:
sudo add-apt-repository ppa:weather-indicator-team/ppa
sudo apt-get update
sudo apt-get install indicator-weather
per avviarla basta andare in Applicazioni > Accessori > Weather Indicator Applet, al riavvio avremo già avviato nella nostra area di notifica