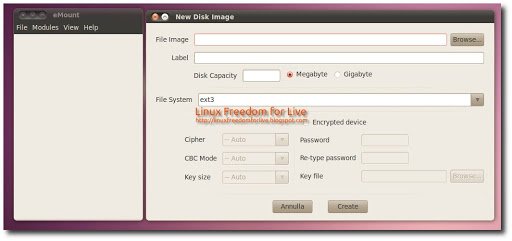 Nuovo rilascio per eMount, grazie alla nuova versione 0.11 possiamo creare File Immagine più rapidamente, inoltre sono stati corretti alcuni problemi di dipendenze e corretti alcuni bug.
eMount è un'applicazione per montare, crittografare e gestire file immagine del disco, partizioni e supporti connessi quali pendrive o hd esterni ecc. L'applicazione si basa su cryptsetup, che implementa la specifica di crittografia del disco LUKS.
Crea immagini disco ext2, ext3, ext4, FAT-16, FAT-32, HFS, HFS+
Montare le partizioni e immagini virtuali
Clonazione di immagini e di dispositivi
Le novità della nuova eMount 0.10.3:
The library dependency on wxWidgets has been replaced with GTK+ (gtkmm). Major GUI improvements were released.
Compact disk space allocation has been added to allow quick creation of disk images.
Per installare
eMount su Ubuntu
–
Debian
–
Fedora
–
openSUSE
basta scaricare il pachetto da
QUESTA
pagina