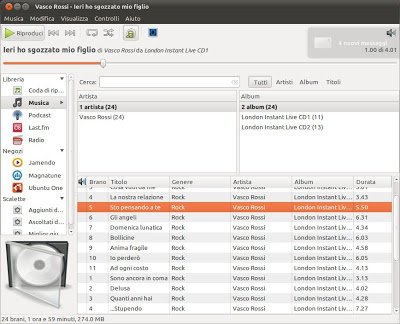 Rhythmbox è il player audio che troviamo di default in molte Distribuzioni con ambiante desktop Gnome, supporta la riproduzione di un'ampia varietà di musica digitale. I più comuni file riprodotti sono quelli memorizzati nella Libreria, oltre che radio in streamig e podcast; è supportato lo standard Replay Gain. Inoltre possiamo aggiungere anche molti plugin, oggi difatti vedremo come aggiungere ben 5 plugin in un colpo.
I plugin che andremo ad integrare nel nostro Rhythmbox sono:

Open Cover: permette di aprire la copertina dell'album direttamente nel nostro editor di immagini preferito
Save the cover in the metadata: permette di salvare la cover dell'album direttamente nei metadati del file
Search Cover Online: permette di cercare la cover dell'album direttamente all'interno di Google Images
Search Artist Bio Online: permette di accedere direttamente alla pagina riguardante la biografia dell'autore
Save the cover in the file path: permette di salvare la cover associata al file audio nella stessa cartella del file stesso.
Per installare i plugin occorre prima integrare alcune dipendenze necessarie, per farlo avviamo il terminale e digitiamo:
sudo apt-get install python-mutagen python-notify
ora sempre da terminale installiamo i plugin con un semplice:
mkdir -p ~/.gnome2/rhythmbox/plugins
cd ~/.gnome2/rhythmbox/plugins
wget http://sites.google.com/site/undo13/home/simple-rhythmbox-plugins/SimpleRBPlugins_en0.1.tar.bz2
tar xovfj SimpleRBPlugins_en0.1.tar.bz2
rm SimpleRBPlugins_en0.1.tar.bz2
al termine avviamo il nostro Rhythmbox e andiamo in -> Modifica -> Plugin e selezionare/attivare i nostri nuovi Plugin.
fonte | webupd8