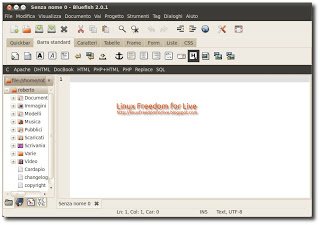 Bluefish
è un
editor HTML multipiattaforma
per
sviluppare siti web
scritto utilizzando le librerie
GTK+
, quindi per
Gnome
. Supporta i linguaggi:
HTML, XHTML, CSS, XML, PHP, C, JavaScript, Java, SQL, Perl, ColdFusion, JSP, Python, Ruby
e script shell, grazie a
Bluefish
avremo a  disposizione schede, pulsanti e menù per facilitare e velocizzare la scrittura delle pagine
HTML
.
Le novità della nuova versione 2.0.2 Rc1:
various small fixes
small language file improvements
upgrade deprecated gtkitemfactory to gtkuimanager for future gtk-3 compatibility
remove old tooltips code and main_v->tooltips
new "jump" feature
auto-indenting now also supports outdenting
Per installare/aggiornare il nostro Bluefish 2.0.2 Rc1 su Ubuntu 10.04 Lucid basta scaricare il pacchetto dal link posto sotto e poi cliccarci sopra e confermare.
download Ubuntu 10.04 Lucid 32 bits
download Ubuntu 10.04 Lucid 64 bits
L'applicazione è presente nei PPA LffL Lucid Testing per maggiori informazioni consultare QUESTO articolo