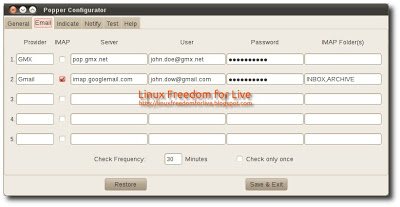 Popper è una semplice applicazione che ci permette di notificarci i nuovi messaggi e solo in caso volessimo leggerli apriremo il nostro evolution o altra applicazione da noi predefinita per al ricezione / invio delle email.
Possiamo utilizzare Popper su qualsiasi server di posta elettronica, permette di personalizzare il tempo di aggiornamento, e il suono d'allarme in caso di nuove email.
Popper si integra perfettamente nell'area di notifica.
Le novità della nuova versione 0.20:

Installation: just install the DEB file. What's new: – notifies sender and subject when only one new email arrives, – fixed problem with German language recognition, – Configurator (tab: indicator) cleaned-up, – utilize non-SSL if not supported by IMAP server, – – keeps summary list filled after clear() or click on headline when "show only new email" is set.
Per installare Popper 0.20 su Ubuntu basta scaricare QUESTO pacchetto, cliccarci sopra e confermare.
Per configurare l'applicazione basta andare su Applicazioni -> Internet -> Popper Configuration

home