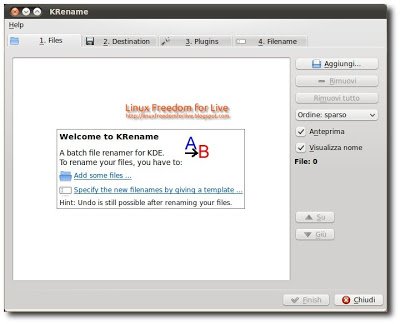 KRename è un 'rinominatore' di file, che ci permette di rinominare facilmente e velocemente moltissimi file in un colpo solo. Utilizza plugin per far uso dei metadati, ti permette di cambiare caratteri, aggiungere numeri e molto di più. I file possono essere modificati in base al nome o all'estensione, possono essere numerati in ordine sequenziale o possono essere gestiti solo per porzioni di nome. Il software supporta anche la visualizzazione dei dati Exif delle fotografie digitali.
Le novità della nuova versione 4.0.5:

This release adds advanced sorting modes, based on KRename tokens such as [filesize] or [creationdate] and the font plugin to rename font files is back.
Per installare KRename su Ubuntu 10.04 Lucid basta scaricare il file .deb dal link posto sotto cliccarci sopra e confermare
krename_4.0.5-1~lffl~lucid~ppa_i386.deb
krename_4.0.5-1~lffl~lucid~ppa_amd64.deb
In alternativa possiamo installare l'applicazione anche attraverso repository LffL Lucid:
sudo add-apt-repository ppa:ferramroberto/linuxfreedomlucid
sudo apt-get update
sudo apt-get install krename
e confermiamo