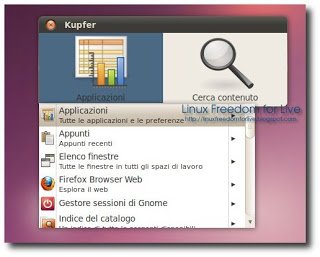 Kupfer è un Summoner / launcher in stile Quicksilver o GNOME Do. Si può cercare e sfogliare i file, lanciare documenti o applicazioni o tutto quel che si vuole, vista la natura estremamente modulare del progetto. L'applicazione è scritta in Python ed è dunque comodamente estendibile tramite plugin facili da scrivere.
Ecco le novità della nuova versione v220:
# Add option to hide Kupfer when focus is lost
# Use application indicators when available
# Python module keyring is now optional for Kupfer
# Update Google Translate for protocol changes)
# Disable saving window position until a better solution is found
# Use 'mailto:' as URL
# Fix UI glitch with empty Source
# Small changes (Francesco Marella)
Per installare/aggiornare Kupfer su Ubuntu 10.04 Lucid e 9.10 Karmic basta avviare il terminale e digitare:
sudo add-apt-repository ppa:kupfer-team/ppa
sudo apt-get update
sudo apt-get install kupfer
e confermiamo.