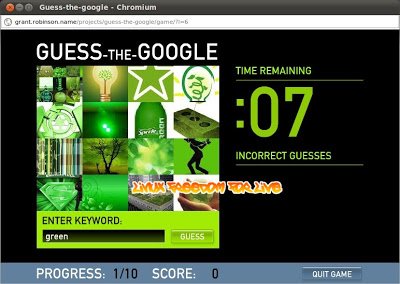 L'abitudine all'uso dei motori di ricerca ha pian piano calcificato abitudini e sequenze d'interazione che ci portano a compiere gesti automatici quando cerchiamo qualcosa in rete. L'impressionante database d'immagini di
Google
, in particolare, rende un'immediato feedback visivo dei contenuti in risposta ad una specifica parola chiave.
Guess The Google ribalta i ruoli di utente e database, mettendo l'utente stesso di fronte alle venti immagini, di cui deve indovinare il comune denominatore (ossia la keyword) in venti secondi.
Per ogni parola da indovinare, si hanno a disposizione venti secondi e anche in caso di insuccesso, si passa ugualmente alla fase successiva penalizzando, ovviamente, il punteggio finale.
Per ogni tappa del gioco, l'utente riceverà dei punti in funzione del numero di risposte sbagliate e dei tentativi consumati. Guess The Google, è una delle applicazioni web più famose della famiglia 2.0, per aver vinto una delle prime edizioni dei campionati di questa categoria pubblicizzati su Internet.
Il quiz è completamente gratuito e non necessita di registrazione, per cui, non vi resta che provarlo!