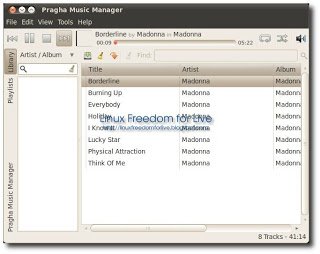 Pragha
è un semplice player musicale, basato su GTK, SQLite, e completamente scritto in C, prodotto per essere veloce, leggero, e allo stesso tempo completo. Pragha era originariamente derivato di Consonance Music Manager (http://sites.google com / site / consonancemanager /), Interrotta dall'autore originale.
Ecco le principali novità della nuova versione 0.8.0.2 tratte dal sito del produttore:
* Update German translation. Thanks to Christoph Wickert.
* Disable Global keybindings if gtk < 2.20.
* Add "Pragha Music Player" to the sumary of notifications and so displayed correctly. In notify-osd for example.
* Eliminate previous incompatible db only if minor to 0.8.0.
* Drop "Folder structure" bad string.
Per installarlo su Ubuntu 10.04 Lucid basta scaricare il file .deb dal link posto sotto cliccarci sopra e confermare

pragha_0.8.0.2-1~lffl~lucid~ppa_i386.deb
pragha_0.8.0.2-1~lffl~lucid~ppa_amd64.deb
In alternativa possiamo installare l'applicazione anche tramite repository per farlo basta avviare il terminale e scrivere:
sudo add-apt-repository ppa:ferramroberto/extra && sudo apt-get update
sudo apt-get install pragha

confermiamo e alla fine avremo il nostro Pragha installato / aggiornato