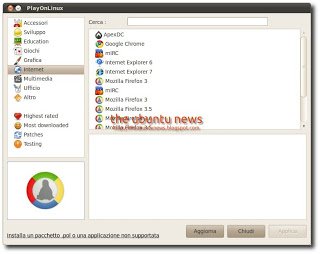 PlayOnLinux è un una semplice applicazione (scritta in Python) basata su Wine che ci permette di giocare a molti giochi nativi per Microsoft Windows. Oltre i giochi possiamo far "girare" sulla nostra Distribuzione anche i più importanti software per Windows e il tutto con estrema facilità. L'applicazione offre un elenco dei repository integrabili nell'applicazione accessibile da QUESTO  link
Ecco le novità della nuova versione 3.7.7 tratte dal sito del produttore:
· PlayOnLinux automatically extract icons during the installation process to use them in the main menu.
· A bug corrected preventing user from changing a program icon
· Few translations were corrected
· Definitive correction (we hope) of $PROGRAMFILES variable problem. Script are being rewritten.
· PlayOnLinux is now available in Greek (Thank you kapcom01)
Per installare Play on Linux su Ubuntu abbiamo 2 possibilità la prima scaricando il pacchetto .deb dal sito del produttore o direttamente da QUESTO link cliccarci sopra e confermare oppure (il metodo migliore)  integrando i repository nella nostra Distribuzione. Installando Play on Linux con questo metodo in caso di future nuove versioni dell'applicazione potremo aggiornare alla successiva versione semplicemente aggiornando la Distribuzione.
Ecco come fare per installare Play on Linux da Repository:
Avviamo il terminale e scriviamo
Per Ubuntu 10.04 Lucid
sudo wget http://deb.playonlinux.com/playonlinux_lucid.list -O /etc/apt/sources.list.d/playonlinux.list && sudo apt-get update
Per Ubuntu 9.10 Karmic
sudo wget http://deb.playonlinux.com/playonlinux_karmic.list -O /etc/apt/sources.list.d/playonlinux.list && sudo apt-get update
Per Ubuntu 9.04 Jaunty
sudo wget http://deb.playonlinux.com/playonlinux_jaunty.list -O /etc/apt/sources.list.d/playonlinux.list && sudo apt-get update
Per Ubuntu 8.10 Intrepid
sudo wget http://deb.playonlinux.com/playonlinux_intrepid.list -O /etc/apt/sources.list.d/playonlinux.list && sudo apt-get update

ora  installiamo Play on LinuX con un semplice:

sudo apt-get install playonlinux
e confermiamo. Ora avremo la nostra Play on LinuX installata nella nostra Distribuzione