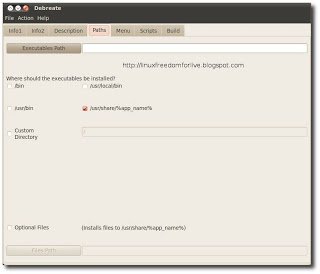 Debreate (Debian package builder) è una utility grafica per l'aiuto nella creazione di pacchetti Debian. Grazie alla sua semplice interfaccia a schede, permette inoltre di integrare i .control e .desktop per creare un collegamento al nostro menu. Una volta che tutte le sezioni necessarie sono stati compilate e le directory contenenti i file dell' applicazione sono aggiunti, Debreate crea un albero di directory generico e luoghi di tutti i file nelle loro specifiche cartelle.  Viene distribuito anche per ambienti desktop Kde.
Ecco le novità della nuova versione 0.7.0-0alpha5 tratte dal sito del produttore:
· Checks for errors in produced .deb with lintian
· Repairs file and executable permissions
· Bug fix: Version field doesn't re-enable after changing modes
· Changed "Section" default values to be in accordance with Debian Policy Manual
· Fixed changelog creation
· Fixed text colors on Control page for dark themes
· Put correct options in "Sections" under Control page
· Fixed enabling/disabling some checkboxes if md5sum and lintian aren't installed
Per installarlo su K|X|Ubuntu basta scaricare il file .deb dal link posto sotto cliccarci sopra e confermare oppure aprire il terminale  e scrivere:
sudo dpkg -i *.deb
e poi
sudo apt-get install -f
confermiamo e alla fine avremo il nostro Debreate installato.