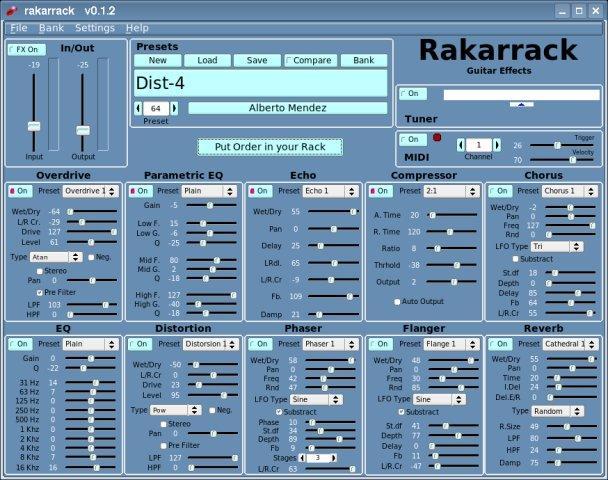 Rakarrack e' un processore effetti per chitarra per GNU / Linux semplice e facile da usare ma che contiene caratteristiche che lo rendono unico in questo campo di applicazioni. Esso contiene 17 effetti: Equalizzatore lineare, Equalizzatore parametrico, compressore, Distorsion, Overdrive, Echo, Chorus, Phaser, Flanger riverbero, WAHWAH, Alienwah, Harmonizer, NoiseGate, Delay, cabinet, Autopan / Extra Stereo. Integra un sintonizzatore e un convertitore MIDI. Puo' anche essere gestito da un controller MIDI esterno. Le impostazioni utente possono essere immagazzinate in preset e possono essere utilizzati per creare banche di effetti.
In QUESTA pagina troverete alcuni video riguardanti l'applicazione
Novità della nuova versione 0.5.8:
New features, including Tap Tempo, Resampling, and Analog Control Interface, have been added. Up to 23 new effects were added, including Vocoder, Valve, Dual Flanger, Ring, DistBand,…  Exciter, Arpie, Expander, Shuffle, Syhtnfilter, VaryBand, Looper, MuTroMojo, ShefBoost, Sustainer, Sequence, Shifter, StompBox, Reverbtron, and Echotron. Up to 13 new waveshappers have been added. Improvements include note reconigtion, a GUI, DC filter offset at the input, tuner calibration, and the ability to automatically connect JACK input ports. Bugs were fixed
(less)

Per installare l'applicazione su Ubuntu 10.04 Lucid basta scaricare il pacchetto posto sotto e cliccarci sopra e confermare.
rakarrack_0.5.8-1~lffl~lucid~ppa_i386.deb
rakarrack_0.5.8-1~lffl~lucid~ppa_amd64.deb
In alternativa possiamo integrare i repository Linux Freedom for Live per farlo basta avviare il terminale e scrivere
sudo add-apt-repository ppa:ferramroberto/extra && sudo apt-get update
sudo apt-get install rakarrack

confermiamo e alla fine avremo il nostro Rakarrack installato