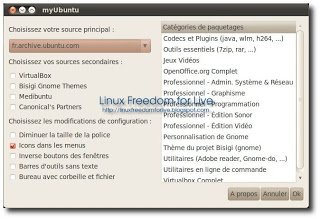 myUbuntu è unp semplice script che ci aiuta all'installazione dei pacchetti denominati "indispensabili" per completare la nostra Nuova Distribuzione. Se abbiamo appena completato l'installazione della nuova Lucid al primo avvio ci accorgeremo che la Distribuzione mancano i codec audio-video, rar, zip java ecc e applicazioni (esempio Gimp) che la maggior parte di noi utenti utilizzerà. Grazie allo script potremo completare la nostra Lucid con pochi click.
Ecco le novità della nuova versione 10.04 R3:
* Added full english support in application text.
* Added full english documentation.
* Translated all script comment in english.
* Deported temporary file in 'tmp' folder for easy clean
* Added flash64 hack in scripts :
– bin/procedure
– bin/install_final
To automaticly get flashplugin64-installer repository and package on
64bits systems.
Per avviare lo script basta scaricare il file .tar.bz2 dal link posto sotto ed estrarlo in una cartella. Avviamo il terminale e rechiamoci dentro la cartella dove è stato precedentemente estratto il file e scriviamo:
./install
facendo questo avremo il nostro myUbuntu avviato.
Per maggiori informazioni consiglio di consultare il sito del produttore accessibile direttamente dal link posto qui sotto.