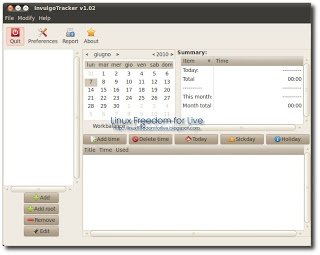 InvulgoTracker è una semplice applicazione per il monitoraggio del tempo di utilizzo della nostra attività o dei nostri progetti. Permette di creare e mantenere traccia di quanto tempo si spende sui tasks, applicazioni, internet ecc. Inoltre possiamo avere il nostro riepilogo aggiornato sia giornalmente che mensilmente.
Ecco le novità della nuova versione 1.07 tratte dal sito del produttore:

* Changed location of icons to pixmaps.
Disponibili i pacchetti per Ubuntu 10.04 Lucid:
invulgotracker_1.07-1~lffl~lucid~ppa_i386.deb
invulgotracker_1.07-1~lffl~lucid~ppa_amd64.deb
In alternativa installiamo l'applicazione attraverso PPA Lucid scrivendo
sudo add-apt-repository ppa:ferramroberto/linuxfreedomlucid && sudo apt-get update
sudo apt-get install invulgotracker

e avremo la nostra applicazione installata