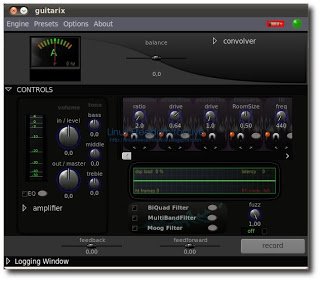 Guitarix – Linux Rock Guitar Amplifier è un'applicazione per creare gli effetti audio della nostra Chitarra. L'applicazione utilizza Jack (Jack Audio Connektion Kit) con un ingresso e due uscite. Progettato per ottenere nice thrash / metal / rock / blues chitarra suoni. Ci sono controlli per bassi, medi, alti, il guadagno (in / out), compressore, preamp, tubo, unità, overdrive, oversample anti-aliase, Fuzz, l'equilibrio, la distorsione, freeverb, risposta all'impulso, vibrato, chorus, Crybaby (wah) e echo. Per la 'pressione' del suono è possibile utilizzare il feedback e feedforward cursori.
Ecco le novità della nuova versione 0.10.0:
  * add tonestack models
  * add 2. amp model
  * add cabinet impulse response modul
  * add Patch Info widget
  * add Preset File Load/Export option
  * add simple looper
  * add Oscilloscope and tuner state to main settings
  * selectable distortion model (multi/single line)
  * selectable EQ model (fixed/scalable freq)
  * free mem when not used (delay lines)
  * reworked Gui
  * fix varios bugs

Per installare Guitarix su K|X|Ubuntu 10.04 Lucid basta scaricare il file .deb dal link posto sotto cliccarci sopra e confermare oppure aprire il terminale  e scrivere:

sudo dpkg -i *.deb
e poi

sudo apt-get install -f
confermiamo e alla fine avremo il nostro Guitarix installato.
In alternativa possiamo installare l'applicazione anche tramite repository per farlo basta avviare il terminale e scrivere:
sudo add-apt-repository ppa:ferramroberto/extra && sudo apt-get update
sudo apt-get install guitarix

confermiamo e alla fine avremo il nostro Guitarix aggiornato
guitarix_0.10.0-16~lffl~lucid~ppa_i386.deb
guitarix_0.10.0-16~lffl~lucid~ppa_amd64.deb