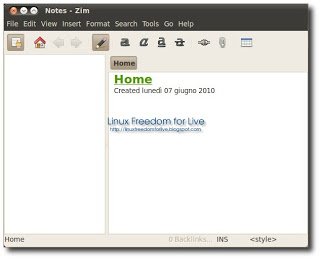 Zim, è un'applicazione. specifica per Gnome, porta il concetto di un wiki per il desktop. con il quale potremo memorizzare informazioni, link e modificare le pagine grazie ad un semplice editor WYSIWYG. Le pagine sono memorizzate in una struttura di cartelle, come in un Outliner, inoltre possiamo aggiungere anche allegati  Zim gestisce diversi tipi di markup, come intestazioni, elenchi puntati e, naturalmente, grassetto, il corsivo e sottolineato
Grazie della funzione di salvataggio automatico è possibile passare da una pagina all'altra ed eseguirne modifiche/correzioni senza preoccuparci di perdere i nostri appunti.
Ecco le novità della nuova versione 0.47 tratte dal sito del produttore:
This release add significant improvements for the page index and the task list index. For the task list plugin "TODO" and "FIXME" tags are supported again. The trayicon plugin now supports the Ubuntu 10.4 application-indicator menu. The trayicon menu also has a new "create note" dialog to quickly paste text into any notebook. A new plugin was added to insert symbols and special characters. And a new plugin was added to insert and edit GNU R plots. Placeholders can now be moved and deleted as regular pages. Non-utf8 filesystems are now supported as well as unicode filenames on windows. A translation was added for Traditional Chinese.
Per installarlo su K|X|Ubuntu basta scaricare il file .deb dal link posto sotto cliccarci sopra e confermare oppure aprire il terminale  e scrivere:
sudo dpkg -i *.deb
e poi
sudo apt-get install -f

confermiamo e alla fine avremo il nostro Zim installato.
Per maggiori informazioni consiglio di consultare il sito del produttore accessibile direttamente dal link posto qui sotto.