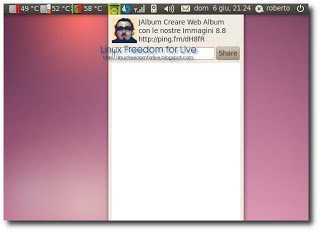 Wallbox è una semplice applicazione grazie alla quale avremo un'icona nella nostra Area di Notifica che ci permette di cambiare stato e leggere le notifiche in real time di Facebook.
Ecco le novità della nuova versione 0.4.2 tratte dal sito del produttore:
    * Enhancement window position: put system tray on bottom of screen? wallbox 0.4.2 include enhancement window position support to fix some window position issues.
    * Translation support: now we have Traditional Chinese translation support, please refer wallbox.pot to translation to your language.
    * New icon set: thanks honki provide new icon set for wallbox.
    * Autoolize: we use autotool instead of setuptools.
Ecco come installare Wallbox su Ubuntu 10.04 Lucid
Per prima cosa aggiungiamo i repository e chiave d'autentificazione scrivendo:


sudo add-apt-repository ppa:ronmi/wallbox && sudo apt-get update
e installiamo Wallbox scrivendo:
sudo apt-get install wallbox
e confermiamo, al termine avremo il nostro Wallbox installato nella nostra Distribuzione. Fatto questo andiamo in Applicazioni -> Internet -> Wallbox e avviamo l'applicazione.
All'avvio ci verrà chiesto di inserire il codice di conferma associato al nostro account per farlo basta cliccare su Active Wallbox (foto sotto)
Si aprirà il nostro Browser con la pagina di Facebook riguardante l'autorizzazione all'accesso al nostro Postbox, per farlo clicchiamo su Ottieni il codice d'accesso (foto sotto)
Verrà visualizzato un codice che andremo a inserire nella nostra Applicazione. Ora ci verrà chiesta un altra autorizzazione per farlo basta cliccare su Get Extra Permission si avvierà un'altra pagina dove dovremo solo confermare, al termine avremo la nostra Applicazione autenticata non ci resta che cliccare su Applica. Ora basta recarci nell'icona rossa con la quale potremo cambiare il nostro stato r essere aggiornati sulle nostre notifiche in tempo reale.
In caso di future nuove versioni ci basterà aggiornare la nostra Distribuzione.
Per maggiori informazioni consiglio di consultare il sito del produttore accessibile direttamente dal link posto qui sotto.