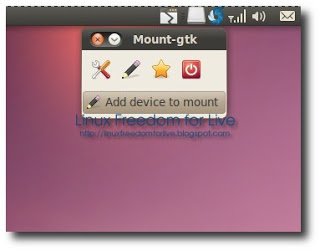 Mount-gtk è una semplice applicazione, basata su pmount, per montare/smontare dispositivi rimovibili come dischi fissi, pendrive ecc nella nostra Distribuzione. L'applicazione costituisce una base solida per sistemi di mount automatico come il progetto Utopia di GNOME e riduce al minimo la quantità di codice che deve girare come root.
Ecco le novità della nuova versione 1.0.8 tratte dal sito del produttore:
Provide compilation option for GTK+3 as well as GTK+2 (configure.ac, acinclude.m4 and README; mainwindow.cpp, mount_entries.cpp and preferences.cpp).
Make program configuration check for _POSIX_CLOCK_SELECTION as well as _POSIX_MONOTONIC_CLOCK when checking the availability of monotonic clocks for condition variables (corrects BSD builds) (acinclude.m4).
Update README on dbus usage.
Upgrade internal c++-gtk-utils version to 1.2.3.
Per installare/aggiornare l'applicazione su Ubuntu 10.04 Lucid basta scaricare il file .deb dal link posto sotto cliccarci sopra e confermare oppure aprire il terminale  e scrivere:
sudo dpkg -i *.deb
e poi

sudo apt-get install -f
confermiamo e alla fine avremo il nostro Mount-gtk installato.
In Alternativa possiamo installare l'applicazione integrando i repository Linux Freedom for Live avviando il terminale e scrivendo:
sudo add-apt-repository ppa:ferramroberto/extra && sudo apt-get update && sudo apt-get install mount-gtk

e confermiamo al termine avremo il nostro Mount-gtk installato
Per maggiori informazioni consiglio di consultare il sito del produttore accessibile direttamente dal link posto qui sotto.
home
download Ubuntu 10.04 Lucid 32 bits
download Ubuntu 10.04 Lucid 64 bits