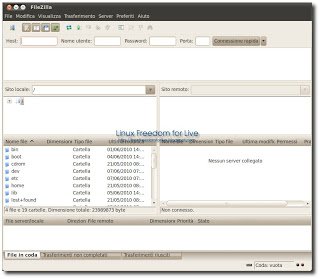 FileZilla è un'applicazione che permette di trasferire file attraverso il protocollo FTP. FileZilla supporta i protocolli FTP, SFTP e FTPS (FTP over SSL/TLS). Le funzionalità principali sono la gestione siti, visualizzazione LOG, esplorazione file e directory e coda di trasferimento. La gestione siti permette all'utente di creare una lista di siti FTP ai quali connettersi, specificando il numero di porta da utilizzare, il protocollo da utilizzare e se verrà utilizzato un accesso anonimo o con utente normale.
Ecco le novità della nuova versione 3.3.3 tratte dal sito del produttore:

  * Fix transfer statusbar regression introduced in the release candidate
  * Do not include IPv6 zone index in the argument to the EPRT command
  * Correct tab order in filter edit and search dialogs
  * Revert cursor changes
Per installare/aggiornare l'applicazione su K|X|Ubuntu 10.04 Lucid  basta creare una cartella e scaricare 2 file .deb dal link posto sotto e  avviare il terminale, recarsi dentro la cartella e scrivere:
sudo dpkg -i *.deb
e poi
sudo apt-get install -f

confermiamo e alla fine avremo il nostro FileZilla installato/aggiornato
In alternativa possiamo integrare i repository Linux Freedom for Live Testing per farlo basta avviare il terminale e scrivere
sudo add-apt-repository ppa:ferramroberto/linuxfreedomlucid && sudo apt-get update && sudo apt-get install filezilla

confermiamo e alla fine avremo il nostro FileZilla installato
Per maggiori informazioni consiglio di consultare il sito del produttore accessibile direttamente dal link posto qui sotto.
home
download Ubuntu 10.04 Lucid 32 bits Questo e Questo
download Ubuntu 10.04 Lucid 64 bits Questo e Questo