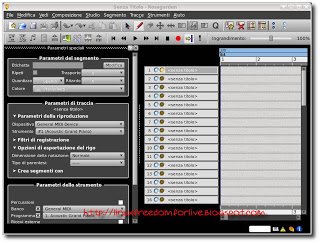 Rosegarden è un'applicazione che permette la composizione di brani musicali, la visualizzazione sotto forma di spartito e la conversione di quest'ultimi in MIDI file. È stato progettato come clone open source di Cubase. Include tutti gli strumenti necessari per poter sfruttare al meglio l'audio digitale, fra cui un sequencer e un editor che agiscono in modo coordinato. L'editor permette infatti di trascrivere, visualizzare ed editare musica utilizzando la notazione musicale tradizionale.
Ecco le principali caratteristiche dell'applicazione:
    * Sequencer audio/MIDI con tracce illimitate
    * Editor audio
    * Matrix editor
    * Event editor
    * Undo e redo illimitati
    * MIDI manager
    * Editor di notazione musicale
    * Utilizzo dei plugin LADSPA
    * Utilizzo dei virtual instruments con architettura DSSI
    * Varie lingue disponibili tra cui l'Italiano
Ecco le novità della nuova versione 10.04.2:
* Fix crash when importing studio from a document that has more MIDI  devices than the current document
* Fix crash when inserting a breve at the start of a two-bar 4/4  segment
* Fix crash when changing synth or plugin settings in a window other  than the main window, when no synth or audio instrument is assigned  in the current document but one had been assigned in the previousl   loaded document (#2954068)
* Fix failure to add tempo changes when asked to do so from the menu,  in matrix and notation
* Fix problems mapping international file names to local encoding
* Fix crash when cancelling file dialogs in some circumstances
* Fix failure to compile with Qt 4.7
Per installare o Aggiornare Rosegarden su K|X|Ubuntu 10.04 Lucid basta avviare il terminale e copiare quanto segue:
sudo add-apt-repository ppa:ferramroberto/extra && sudo apt-get update && sudo apt-get install rosegarden

confermiamo e al termine avremo il nostro Rosegarden installato.
In caso di future nuove versioni ci basterà aggiornare la nostra Distribuzione.
Per maggiori informazioni consiglio di consultare il sito del produttore accessibile direttamente dal link posto qui sotto.