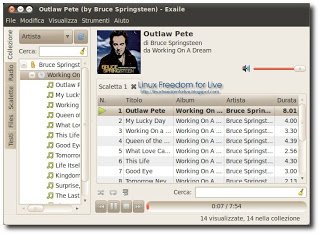 Exaile è un media player libero per GNU/Linux e sistemi operativi Unix-like basato sulle librerie GTK+. È scritto usando PyGTK, un insieme di comandi per Python del toolkit GTK+ e trae ispirazione da Amarok, famoso lettore multimediale per KDE. È un'applicazione estremamente leggera e comoda, che permette di ascoltare la musica dal proprio hard disk o in streaming via internet. Tra le tante caratteristiche della "nuova" versione 3 segnaliamo il supporto alle cover di Last.fm e quello sperimentale a gapless, un plugin per librivox, il riconoscimento automatico di CD e media player, nuovi artwork e migliorata usabilità della GUI.
Ecco le novità della nuova versione 0.3.2-rc1 tratte dal sito del produttore:
# Improved support for covers embedded in ogg and flac files
# Gapless playback by default (via playbin2)
# Many dialogs replaced with gtk InfoBars
# Preference items that require a restart now prompt for it
# Vastly improved lyricsviewer plugin
# Drag and drop on the main cover display to set and retrieve covers
# Track counts in collection panel
# New tooltip for tray icon and minimode that displays cover and progress
# Custom playback sink support
# Display cover art when dragging from side panels
# Read-only support for Matroska tags
Per aggiornarlo/installarlo su Ubuntu 10.04 Lucid basta scaricare il file .deb dal link posto sotto cliccarci sopra e confermare oppure aprire il terminale  e scrivere:

sudo dpkg -i *.deb
e poi
sudo apt-get install -f
confermiamo e alla fine avremo il nostro  Exaile installato/aggiornato.
Per maggiori informazioni consiglio di consultare il sito del produttore accessibile direttamente dal link posto qui sotto.
home
download Ubuntu 10.04 Lucid 32/64 bits
download exaile-plugin-contextinfo Lucid
download exaile-plugin-ipod Lucid
download exaile-plugin-moodbar Lucid