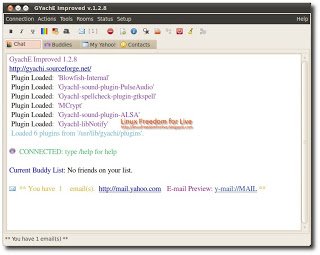 GYachI è una versione migliorata del GyachE, ossia Yahoo Messenger per Linux.
Offre tutte le funzioni di Yahoo IM (persino emoticon ed audibles sono gli stessi, insieme al photo-sharing, trasferimento files, supporto webcam, ecc)
Ecco le novità della nuova versione 1.2.8:
* Linker changes no longer automatically bring in v4l2, so
* must check for libv4l1 *and* libv4l2 and include BOTH in
* CFLAGS and LIBS
Per installare L'applicazione su Ubuntu 10.04 Lucid occorre integrare i repository Linux Freedom for Live Extra per farlo basta avviare il terminale e scrivere:
sudo add-apt-repository ppa:ferramroberto/extra && sudo apt-get update

ed infine installare l'applicazione con un semplice:
sudo apt-get install gyachi
e confermare.
In caso di future nuove versioni ci basterà aggiornare la  Distribuzione.