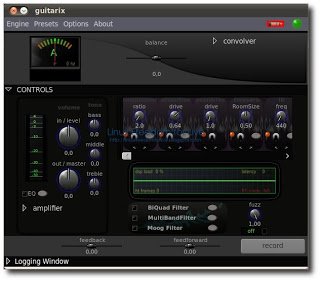 Guitarix – Linux Rock Guitar Amplifier è un'applicazione per creare gli effetti audio della nostra Chitarra. L'applicazione utilizza Jack (Jack Audio Connektion Kit) con un ingresso e due uscite. Progettato per ottenere nice thrash / metal / rock / blues chitarra suoni. Ci sono controlli per bassi, medi, alti, il guadagno (in / out), compressore, preamp, tubo, unità, overdrive, oversample anti-aliase, Fuzz, l'equilibrio, la distorsione, freeverb, risposta all'impulso, vibrato, chorus, Crybaby (wah) e echo. Per la 'pressione' del suono è possibile utilizzare il feedback e feedforward cursori.
Ecco le novità della nuova versione 0.09.0:
* make distortion a multiband distortion
* fix bug in resample IR-files
* resample IR-files now on-the-fly
* add insert point ports to the effect chain
* add –optimization flag for configure the build
* switch to double precision instead of single precision
* fix bug in reconfigure convolver when preset change
* add patch from Peder Hedlund, build against gtk-2.12.9 and gcc-4.3.1
* add faust 0.9.24 to the "good_faust_versions"
Per installare Guitarix su K|X|Ubuntu 10.04 Lucid basta scaricare il file .deb dal link posto sotto cliccarci sopra e confermare oppure aprire il terminale e scrivere:
sudo dpkg -i *.deb
e poi
sudo apt-get install -f
confermiamo e alla fine avremo il nostro Guitarix installato.
In alternativa possiamo installare l'applicazione anche tramite repository per farlo basta avviare il terminale e scrivere:
sudo add-apt-repository ppa:ferramroberto/extra && sudo apt-get update && sudo apt-get install guitarix

confermiamo e alla fine avremo il nostro Guitarix aggiornato
Per maggiori informazioni consiglio di consultare il sito del produttore accessibile direttamente dal link posto qui sotto.

home
download Ubuntu 10.04 Lucid 32 bits
download Ubuntu 10.04 Lucid 64 bits