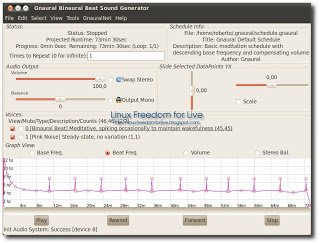 Gnaural è un'applicazione che permette di generare battiti aurali, che secondo numerosi studi servirebbe ad aumentare l'efficacia di un rilassamento e di una meditazione. In poche parole Gnaural crea delle onde a bassa frequenza, soprattutto quelle che vanno dai 3 ai 30 hertz, ossia le frequenze della fascia di lavoro del cervello. L'orecchio assorbe questi suoni che non riesce a distinguere e che, nella maggior parte dei casi, sono mescolati a musiche psichedeliche". Il risultato "dicono" sia di rilassamento ed "in certi casi" di effetto uguale ad alcune droghe. Personalmente non mi ha fatto niente comunque se volte provare anche voi…
Ecco le novità della nuova versione 1.0.20100606:
  * Added both read and write OGG support (the opensource MP3 equivalent)
  * Added ability for Linux distros to provide library download
  * updated the libsnd library for Windows
  * Added Mono output button
  * Fixed the About link so it now opens browsers on most platforms
  * Cleaned up a lot of the audio format handling code
Per installarlo su Ubuntu 10.04 Lucid basta scaricare il file .deb dal link posto sotto cliccarci sopra e confermare
gnaural_1.0.20100606-1~lffl~lucid~ppa_i386.deb
gnaural_1.0.20100606-1~lffl~lucid~ppa_amd64.deb
In alternativa possiamo installare l'applicazione anche attraverso repository:
sudo add-apt-repository ppa:ferramroberto/extra && sudo apt-get update
sudo apt-get install gnaural

e confermare.