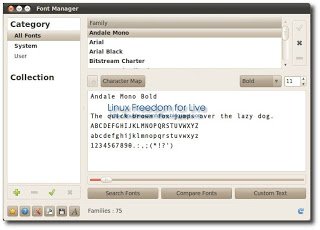 Font Manager è una semplice applicazione per gestire al meglio le nostre font. Sebbene destinato per ambienti desktop GNOME , funziona bene con la maggior parte degli ambienti desktop più importanti come Enlightenment, XFCE e anche KDE.
Font Manager consente attualmente l'utente:
 
* l'utente può facilmente attivare e disattivare i font installati
* Specificare font su directory diverse
* Gruppi di Font , possiamo facilmente attivare o disattivare gruppi di font
* Creare un archivio con tutti nostri font, possiamo creare backup/restore dei nostri font, condividerli ecc
* Fornisce un rapido accesso agli utenti nella cartella dei font in modo che l'installazione dei font o la rimozione può essere effettuata mediante il drag and drop
* E 'inoltre possibile visualizzare informazioni di base sul tipo di carattere selezionato (le informazioni dettagliate sono possibili se abbiamo installato gnome-font-viewer)
Ecco le novità della nuova versione 0.5.5 tratte dal sito del produttore:
Address an issue where fontconfig/pango updates cause previews to stop displaying properly for disabled families.
Address an issue where fonts from user configured folders which are not in the users home directory get placed into the System category.
Address an issue where fonts with family names containing non-ASCII characters are unusable. If you experienced this, please reset the applications cache to remove outdated entries.
Added a fontconfig editor which allows users to configure settings for individual families and styles. <matrix> transformations are not supported.
Added an alias editor which allows users to configure font substitution.
Per installarlo su Ubuntu Ubuntu 10.04 Lucid 9.10 Karmic 9.04 Kaunty Debian  6 Squeeze e 5 Lenny (e derivate) basta scaricare il file .deb dal link posto sotto cliccarci sopra e confermare oppure aprire il terminale  e scrivere:
sudo dpkg -i *.deb
e poi
sudo apt-get install -f
confermiamo e alla fine avremo il nostro Font Manager installato.

download font-manager_0.5.5-1_i386.deb
download font-manager_0.5.5-1_amd64.deb
download font-manager-0.5.5.tar.bz2