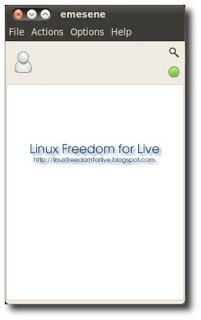 Emesene è un client open source per la messaggistica istantanea che utilizza il protocollo MSN. Viene fornito di supporto per plug-in predefiniti che permettono di migliorare  l'applicazione, aggiungere nuove caratteristiche, ecc.
Ecco le novità della nuova versione 2-20100615
  * New upstream version.
  * Fix the launcher script, should be removed someday…
Attenzione la versione 2-20100615 viene Distribuita come Testing quindi potrebbero esserci dei vari problemi durante il suo utilizzo.
Ecco come installare Emesene2 20100615 Testing su Ubuntu 10.04 Lucid
Se abbiamo installato una versione precedente di Emesene occorre rimuoverla per farlo basta avviare il terminale e scrivere:
sudo apt-get remove emesene
Ora apriamo il terminale e per prima cosa installiamo la la chiave d'autentificazione e repository scrivendo:
sudo add-apt-repository ppa:bjfs/ppat && sudo apt-get update
sudo apt-get install emesene2
e confermiamo. Ora avremo la nostra Emesene2 installata nella nostra Distribuzione