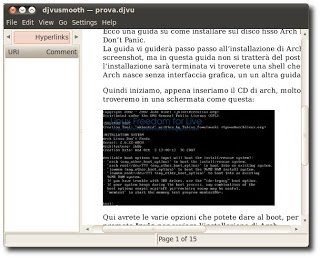 DjVuSmooth è un semplice editor grafico per documentiin formato DjVu
Ecco le novità della nuova versione 0.2.6:
  * Add keyboard shortcut Ctrl+G for Go to page
  * Reopen document after save, so that it's possible to display non-cached
    pages. Thanks to Kyrill Detinov for the bug report.
Per installarlo/aggiornarlo su Ubuntu 10.04 Lucid basta scaricare il file .deb dal link posto sotto cliccarci sopra e confermare oppure aprire il terminale  e scrivere:
sudo dpkg -i *.deb
e poi
sudo apt-get install -f
confermiamo e alla fine avremo il nostro DjVuSmooth installato.