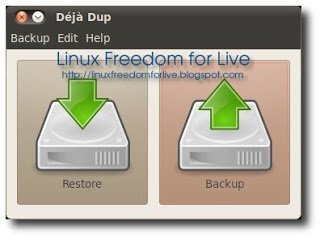 Deja Dup è un'ottima applicazione per la realizzazione di copie di backup dei propri file e delle impostazioni di sistema, adatto ad un utilizzo in ambienti desktop GNOME ma adattabile ad ogni esigenza, e dotato anche di una funzione di ripristino dei file. Tra le principali caratteristiche troviamo la possibilità di selezionare la collocazione del backup, inviabile in maniera automatica al proprio account Amazon S3, ad un server remoto tramite il protocollo SSH o semplicemente collocabile in una qualsiasi cartella del proprio disco fisso. E' possibile selezionare tramite la semplice interfaccia grafica quali cartelle includere e quali escludere dal backup, e di effettuare tale operazione in maniera automatica ad intervalli regolari.
Ecco le novità della nuova versione 14.2 e 15.3 tratte dal sito del produttore:
Unstable 15.3 Released
This is a development version, leading up to an eventual stable 16.0 release. When the backup location is out of space, room is now made by deleting the oldest backup.  Also, a bug that deleted backups after 6 months even if they were supposed to be kept forever has been fixed.  Plus various smaller bug fixes.  The preferences dialog got rearranged to use tabs.
14.2 Released
Fix data-loss issue where trying to keep backups 'forever' only keeps them for 6 months. Also fix a crash in nautilus when trying to restore the same file twice and false permission denied errors when entering passwords for remote sites.
Ecco come installare/aggiornare Deja Dup 14.2 o 15.3 su Ubuntu 10.04 Lucid e 9.10 Karmic:
Apriamo il terminale e per prima cosa installiamo la la chiave d'autentificazione e repository scrivendo:
Per la nuova versione 14.2 Stabile
sudo add-apt-repository ppa:deja-dup-team/ppa && sudo apt-get update
Per la nuova versione 15.3 Unstable
sudo add-apt-repository ppa:deja-dup-team/testing && sudo apt-get update
ora se abbiamo Deja Dup installata in una versione precedente basterà aggiornare la nostra Distribuzione altrimenti installiamo Deja Dup con un semplice:
sudo apt-get install deja-dup
e confermiamo.
Ora avremo la nostra Deja Dup installata/aggiornata nella nostra Distribuzione
In caso di future nuove versioni ci basterà aggiornare la nostra Distribuzione.
Per maggiori informazioni consiglio di consultare il sito del produttore accessibile direttamente dal link posto qui sotto.