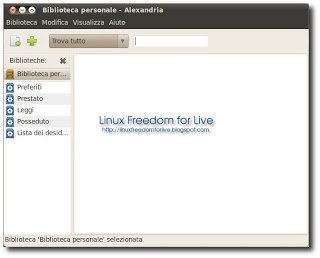 Alexandria è un semplice software scritto in Ruby e sotto licenza GPL, è un programma designato alla catalogazione di qualsiasi genere di testo e può rivelarsi molto utile pure per tener traccia dei libri dati in prestito. Le feature in dotazione ad Alexandria sono numerose; fra le più rilevanti, vi sono: la possibilità di acquisire informazioni sui libri da prestigiosi servizi e database on-line (per citarne qualcuno: Internet Bookshop Italia, US Library of Congress e British Library), la ricerca mediante EAN/ISBN/UPC, il salvataggio dei dati in formato YAML, l'esportazione dei propri archivi in pagine XHTML ed il supporto ai lettori (di codici a barre) CueCat.
Ecco le novità della nuova versione 0.6.6 beta 2 tratte dal sito del produttore:
    * Fixed debian packaging to include libhtmlentities-ruby dependency
    * New provider Douban (China) thanks to Sun Ning
    * Fixed Goodreads CSV import and added LibraryThing CSV import
Per installare l'applicazione su X|Ubuntu 10.04 Lucid basta scaricare il file .deb dal link posto sotto cliccarci sopra e confermare oppure aprire il terminale recarsi dentro la cartella e scrivere:

sudo dpkg -i *.deb
e poi
sudo apt-get install -f
confermiamo e alla fine avremo il nostro Alexandria installato.
Per maggiori informazioni consiglio di consultare il sito del produttore accessibile direttamente dal link posto qui sotto.