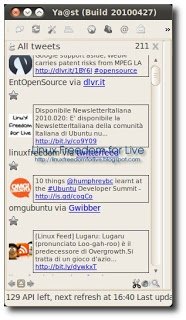 Yasst è un cross-platform client Twitter, ancora in fase di sviluppo che comunque promette molto bene. L'applicazione offre molte novità quali possibilità di utilizzare svariati temi, possibilità di aggiungere account multipli,  salvare le ricerche, riduzione automatica degli URL, supporto RSS, creazione di un gruppo, il caricamento delle immagini … naturalmente insieme ad altre funzioni tipiche di un client Twitter.
Ecco le novità della nuova versione 20100427 tratte dal sito del produttore:

* Fixed: Autocomplete popup could be positioned wrong.
* Added: Auto complete for user names and known hash tags.
* Added: Pressing escape will cancel the tweet.
* Added: Menu on prune read tweets button, you can now remove from this column only or all columns (previous behaviour.)
* Added: Double clicking on the tweet text (avoiding links) will mark the tweet as read.
* Added: Configuration option for automatic mark as read, time delay before marking can be set too.
* Fixed: Possible weird tweet deleting after prune read tweets
Se vogliamo vedere il filmato sulle principali caratteristiche dell'applicazione basta andare QUI.
Per installarlo su qualsiasi Distribuzione Linux basta scaricare il file .tgz dal link posto sotto ed estrarlo in una cartella. Avviamo il terminale e rechiamoci dentro la cartella dove è stato precedentemente estratto il file e scriviamo:
sh Yasst.sh
facendo questo avremo il nostro Yasst avviato.
Per semplificarci i futuri avvi consiglio di crearci un lanciatore o un collegamento con il nostro menu
Per maggiori informazioni consiglio di consultare il sito del produttore accessibile direttamente dal link posto qui sotto.