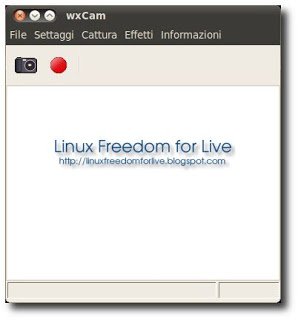 Wxcam è un'applicazione per le webcam su Linux. Supporta la registrazione del video sia in formato non compresso che in Xvid, consente di eseguire delle foto, e di applicare all'immagine una serie di effetti. La registrazione e possibile anche tramite motion detector regolabile. Supporta i driver video4linux 1 e 2 grazie a questo supporta un numero veramente alto di dispositivi.
Ecco le novità della nuova versione 1.0.5 tratte dal sito del produttore:
* Corrected compiling issues with new versions of cimg library
* Cleared some warnings in compile time
Per installarlo su Ubuntu basta scaricare il file .deb dal link posto sotto cliccarci sopra e confermare oppure aprire il terminale  e scrivere:
sudo dpkg -i *.deb
e poi
sudo apt-get install -f
confermiamo e alla fine avremo il nostro wxCam installato.
Per maggiori informazioni consiglio di consultare il sito del produttore accessibile direttamente dal link posto qui sotto.
home
download wxcam_1.0.5_i386.deb
download wxcam_1.0.5_amd64.deb
download wxcam-1.0.5.tar.gz