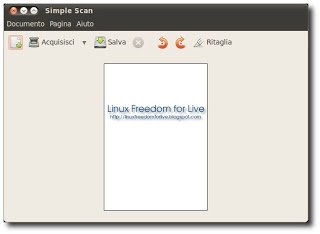 Simple Scan è una semplice applicazione per gestire il nostro scanner. Grazie Simple Scan possiamo scanarizzare un'immagine in maniera semplice e ottimale
Tra le principali caratteristiche dell'applicazione troviamo l'anteprima di scansione dell immagine, il rilevamento automatico di nuovi scanner collegati con selezione automatica. I documenti possono essere salvati nei più comuni formati quali Pdf, Jpeg, Png, Ps ecc
Ecco le novità della nuova versione 2.31.1 tratte dal sito del produttore:
 * Compile with -DGSEAL_ENABLE
 * Fix crash setting automatic source on some drivers
 * Set resolution on ImageMagick generated PDFs
 * Set "duplex" and "batch-scan" flags if supported by driver
Per installarlo/aggiornarlo su X|Ubuntu 10.04 Lucid basta scaricare il file .deb dal link posto sotto cliccarci sopra e confermare oppure aprire il terminale  e scrivere:
sudo dpkg -i *.deb

e poi
sudo apt-get install -f
confermiamo e alla fine avremo il nostro Simple Scan installato.
In alternativa possiamo integrare i repository Linux Freedom for Live da QUESTO post e avviare il terminale e scrivere
sudo add-apt-repository ppa:ferramroberto/linuxfreedomlucid && sudo apt-get update && sudo apt-get install simple-scan

confermiamo e alla fine avremo il nostro Simple Scan installato.
Per maggiori informazioni consiglio di consultare il sito del produttore accessibile direttamente dal link posto qui sotto.
home
download Ubuntu 10.04 Lucid 32 bits
download Ubuntu 10.04 Lucid 64 bits