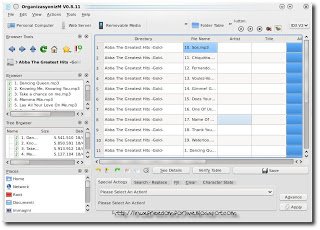 OrganizasyonizM è un semplice file manager, specifico per kde, per rinominare, modificare tag id3 e cambiare informazioni a file musicali. Inoltre permette anche la riproduzione del file e permette di creare/modificare playlist.
Ecco le novità della nuova versione 0.8.22 tratte dal sito del produttore:
– Double-clicking icon in system tray advances on next photo
– Improved duplicated photo detection
– Added Catalan language
– Added Greek language
– Added disclaimer to be accepted on first start of Wally
– Removed QtScript dependency, JSON parser has been implemented internally (Qt 4.6 compatibility)
– Run-time folder change detection has been removed from "Folders" module, its use is too resource consuming
– BUG FIXED: search issues occurred when using multiple tags/keywords
– BUG FIXED: EXIF information are now showed correctly when non-Latin1 characters in filename path are used
– BUG FIXED: KDE 4.4 SC was not properly detected
– BUG FIXED: Panoramio was working only with "Original" sized images
Per installarlo su qualsiasi Distribuzione Linux basta scaricare il file .tar.gz dal link posto sotto ed estrarlo in una cartella. Avviamo il terminale e rechiamoci dentro la cartella dove è stato precedentemente estratto il file e scriviamo:
per installare l'applicazione:
python ./install.py
altrimenti solo per avviare l'applicazione:

python OrganizasyonizM.py
facendo questo avremo il nostro OrganizasyonizM avviato/installato. Per semplificarci i futuri avvi consiglio di crearci un lanciatore o un collegamento con il nostro menu.
Per maggiori informazioni consiglio di consultare il sito del produttore accessibile direttamente dal link posto qui sotto.

home
download OrganizasyonizM-V0.8.22.tar.gz