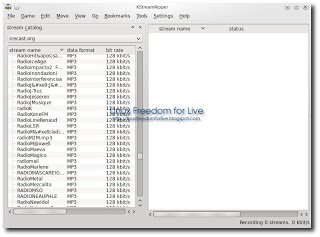 KStreamRipper è un piccolo frontend per l'utilità a riga di comando streamripper che cattura flussi radio Shoutcast e Icecast in Internet sull'harddisk e li suddivide in file mp3/Aac/Ogg. KStreamRipper aiuta a gestire/catturare i propri flussi preferiti. Ecco come fare. Dopo aver installato l'applicazione per avviare una registrazione ci basterà innanzitutto settare il file di output ad esempio il Desktop, successivamente bisogna aggiungere una nuova fonte audio.. ci basterà cliccare su "Add Stream" dare un nome allo stream, digitare correttamente l'url dello stream e magari inserire una piccola descrizione. Una volta fatto cio lo stream comparirà nella box "your radio stream" basterà evidenziarlo e cliccare su rip stream per cominciare a copiare la fonte audio.. naturalmente settate il tempo e la destinazione a dovere. E' possibile anche sentire la radio tramite un programma esterno cliccando su Tune in, di default è selezionato xmms ma si può facilmente modificare i settaggi per utilizzare il player preferito.
Ecco le novità della nuova versione 0.7.0 tratte dal sito del produttore:

* renamed from KRadioRipper to KStreamRipper
* system tray icon (requieres KDE 4.4)
* stream list as tree, it's now possible to create folders
* greatly improved action handling
* calling kstreamripper when it is yet running now just focuses the running instance
Per installarlo su Kubuntu 10.04 Lucid basta scaricare il file .deb dal link posto sotto cliccarci sopra e confermare oppure aprire il terminale  e scrivere:
sudo dpkg -i *.deb
e poi
sudo apt-get install -f
confermiamo e alla fine avremo il nostro KStreamRipper installato.
Per maggiori informazioni consiglio di consultare il sito del produttore accessibile direttamente dal link posto qui sotto.

home
download Ubuntu 10.04 Lucid 32 bits
download Ubuntu 10.04 Lucid 64 bits