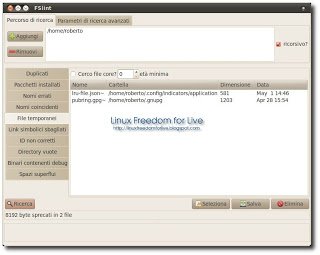 Fslint è una semplice applicazione che ci permette di trovare i file doppi, cartelle vuote, scovare i pacchetti installati, file temporanei etc, il tutto con due semplici click.
Basterà sfogliare la cartella che volete scansionare (oppure il disco intero) e cliccare su Ricerca, il resto lo farà tutto lui. Alla fine del processo verranno visualizzate per ogni file i doppioni e da li possiamo scegliere se tenerli o eliminali.
Ecco le novità della nuova versione 2.42 tratte dal sito del produttore:
* Fixes:
– Allow the findup script to run on CYGWIN by handling the different output format of md5sum et. al. on that platform.
– The "Bad IDs" function in the GUI would error out if it found any items. This regression was introduced in 2.26.
– Start the GUI even if the user's locale is not supported by the system. This regression was introduced in 2.40.
– Don't warn about missing paths when adding wildcard paths to the exclude list. This regression was introduced in 2.40.
– Don't throw an exception when one OKs an empty selection when adding dirs. This regression was introduced in 2.40.
*Translations:
– Added: Catalan, Galician.
– Updated: Chinese, Czech, Danish, Dutch, Finnish, French, German, Greek, Hebrew, Hungarian, Italian, Malay, Russian, Spanish, Swedish.
Per installarlo su Ubuntu basta scaricare il file .deb dal link posto sotto cliccarci sopra e confermare oppure aprire il terminale  e scrivere:
sudo dpkg -i *.deb
e poi
sudo apt-get install -f
confermiamo e alla fine avremo il nostro Fslint installato.
Per maggiori informazioni consiglio di consultare il sito del produttore accessibile direttamente dal link posto qui sotto.
home
download fslint_2.42-1_all.deb
download fslint-2.42-1.noarch.rpm
download fslint-2.42.tar.gz