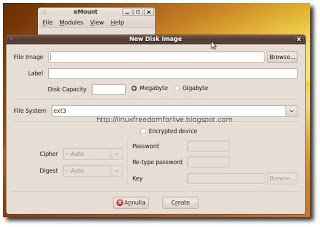 eMount è un'applicazione per montare, crittografare e gestire  file immagine del disco, partizioni e supporti connessi quali pendrive o hd esterni ecc. L'applicazione si basa su cryptsetup, che implementa la specifica di crittografia del disco LUKS.
Ecco le principali caratteristiche dell'applicazione:
 
– Crea immagini disco ext2, ext3, ext4, FAT-16, FAT-32, HFS, HFS+
– Montare le partizioni e  immagini virtuali
– Clonazione di immagini e di dispositivi
Ecco le novità della nuova versione 0.10.0 tratte dal sito del produttore:

* Disk enlargement support for ext2, ext3, ReiserFS and XFS filesystems has been added.
* Initialization procedure for disk images and physical disk drives has been added. This feature allows to delete all data from disks, create new filesystems and change encryption algorithms.
* Setup for ownership and permissions has been added.
* Cryptsetup interface has been improved by adding CBC Mode and Key Size parameters.
* Clickable link to eMount website that could potentially open the browser with root privileges has been removed.
* Several bug fixes have been released.
Per installarlo su K|X|Ubuntu basta scaricare il file .deb dal link posto sotto cliccarci sopra e confermare oppure aprire il terminale  e scrivere:
sudo dpkg -i *.deb
e poi
sudo apt-get install -f
confermiamo e alla fine avremo il nostro eMount installato.
Per maggiori informazioni consiglio di consultare il sito del produttore accessibile direttamente dal link posto qui sotto.
home
download emount_0.10.0-1_i386.deb
download emount_0.10.0-1_amd64.deb
download emount_0.10.0-1_i386.rpm
download emount_0.10.0-1_amd64.rpm
download eMount-0.10.0.tar.gz2
download eMount-0.10.0.tar.bz