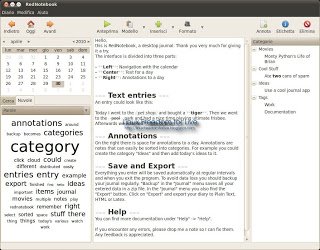 RedNotebook è un'applicazione specifica per redigere diari e organizzare i nostri impegni o le nostre note. L'applicazione comprende un calendario di navigazione, i modelli personalizzabili per ogni giorno, la funzionalità di esportazione e la funzione avvisi a fumetto. Inoltre permette la possibilità di inserire file, immagini e collegamenti di suddividere le note in categorie assegnando loro anche dei tag.
Ecco le novità della nuova versione 0.9.4 tratte dal sito del produttore:
* Allow dragging of files and pictures into RedNotebook (Linux only)
* Save data dir relative to application dir in portable mode
* Remember if window was maximized
* Make webkit the default preview backend
* Improve documentation (Synchronization, Portable mode)
* Improve list markup highlighting
* Only add help content at first startup (Closes LP:550814)
* Live highlighting of searched words in text
* Scroll to found word at search
* Make user directory configurable in default.cfg
* Windows:
* Fully translate Windows version
* Add more languages to the Windows installer
* Fix picture export on Windows
* Hide PDF export button on windows (pywebkitgtk not available)
* Portable mode has been improved
* Let users insert templates again (Closes LP:538391)
* New translations:
* Brazilian Portuguese
* Many translations updated
Per installarlo su Ubuntu 10.04 Lucid e 9.10 Karmic basta scaricare il file .deb dal link posto sotto cliccarci sopra e confermare oppure aprire il terminale recarsi dentro la cartella e scrivere:
sudo dpkg -i *.deb

e poi

sudo apt-get install -f
confermiamo e alla fine avremo il nostro RedNotebook installato.
A giorni sarà l'applicazione sarà ingrata nei repository Linux Freedom for Live per informazioni consiglio di visitare QUESTO articolo.
Per maggiori informazioni consiglio di consultare il sito del produttore accessibile direttamente dal link posto qui sotto.

home
download rednotebook_0.9.4_all.deb
download rednotebook-0.9.4.tar.gz