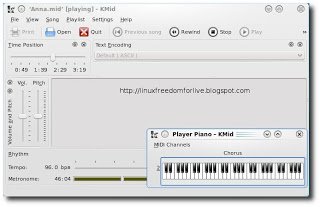 Kmid2 è una semplice applicazione, specifica per Kde, per riproduttore di file di audio (MID e KAR). L'applicazione può essere utilizzata per per far diventare il tuo computer un divertente Karaoke. Da una parte è un riproduttore di audio e dall'altra è un visualizzatore delle parole delle canzoni. I controlli sono molto simili a quelli di qualsiasi altro riproduttore, come pure le funzioni che possiede: andare avanti, andare indietro, inserire la pausa, controllare il volume, ecc.
Ecco le novità della nuova versione 2.3.0 tratte dal sito del produttore:
* Fixes in ALSA sequencer backend:
o don't set an explicit output pool size, using the default size instead.
o unconditionally reload MIDI devices before checking the available outputs.
Per installarlo su Kubuntu 9.10 Karmic e 9.04 Jaunty basta scaricare il file .deb dal link posto sotto cliccarci sopra e confermare oppure aprire il terminale  e scrivere:

sudo dpkg -i *.deb
e poi
sudo apt-get install -f
confermiamo e alla fine avremo il nostro Kmid2 installato.
Per maggiori informazioni consiglio di consultare il sito del produttore accessibile direttamente dal link posto qui sotto.
home
download Kubuntu 9.10 Karmic 32 bits
download Kubuntu 9.10 Karmic 64 bits
download Kubuntu 9.04 Jaunty 32 bits
download Kubuntu 9.04 Jaunty 64 bits