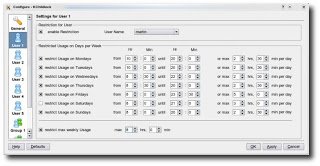 KChildlock è una semplice applicazione, specifica per kde, che controlla e limita il tempo trascorso sul computer di un bambino. I limiti possono essere specificati per ogni giorno della settimana, dalle ore inferiore e superiore, e il massimo tempo di utilizzo giornaliero.
Ecco le novità della nuova versione 0.76.1 tratte dal sito del produttore:

* simplify UI programs (e.g. one source for user config instead of five)
* low limit for choice of user groups
* enable "default" button in config
* set first tab as default tab when calling setup
* larger values for minimal window size.
* patch "kchildlock-0.75.3-drop-kworkspace.patch" by fwang
* patch "kchildlock-0.75.3-mdv-fix-icon-path.patch" by fwang
* patch "kchildlock-0.75.4-mdv-fix-cmake-install-path.patch" by neoclust
Per installarlo su Fedora, Mandriva e openSUSE basta scaricare il file .rpm dal link posto sotto cliccarci sopra e confermare oppure aprire il terminale e scrivere:

rpm -ivh *.rpm
e confermare al termine avremo il nostro KChildlock installato.
Per maggiori informazioni consiglio di consultare il sito del produttore accessibile direttamente dal link posto qui sotto.
home
download openSUSE 11.2
download Mandriva 2010
download Fedora12
download kchildlock-0.76.1.tar.gz