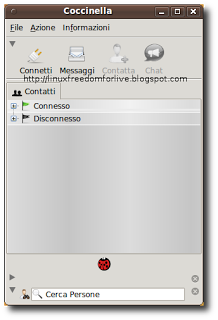 Coccinella è un'applicazione specifica per chattare con i nostri amici con la qualità di supportare molti protocolli, ad esempio ICQ, MSN, Google Talk e anche Apple iChat e Nokia Chat, e Facebook. L'applicazione permette di effettuare delle chat di gruppo, inserire avatar e emoticons personalizzate, trasferire file, fare chiamate VoIP, ecc.
Ecco le novità della nuova versione 0.96.18 tratte dal sito del produttore:
Dragging and dropping of contacts works has been fixed to work with all styles. Management of contacts which are members of multiple groups has been enhanced. All participants… on IRC are shown in the member list. Exceptions when trying to enter an IRC chatroom with mode +r, using nickname completion on IRC, opening the business card editor, opening the item editor in the whiteboard, and when trying to reload broken images from the whiteboard have been fixed
Per installarlo su qualsiasi Distribuzione Linux basta scaricare il file .tar.gz dal link posto sotto ed estrarlo in una cartella. Avviamo il terminale e rechiamoci dentro la cartella dove è stato precedentemente estratto il file e scriviamo:
./Coccinella-0.96.18.bin
facendo questo avremo il nostro Coccinella avviato. Per semplificarci i futuri avvi consiglio di crearci un lanciatore o un collegamento con il nostro menu.
Per maggiori informazioni consiglio di consultare il sito del produttore accessibile direttamente dal link posto qui sotto.