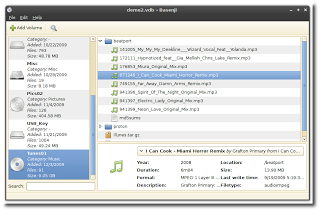 Basenji è un'applicazione concepita per l'indicizzazione facile e veloce delle collezioni come cd musicali ecc. Attualmente supporta l'indicizzazione dei supporti rimovibili quali CD e chiavette USB e li memorizza nel proprio database, dove da li possono essere sfogliati per ricerche attraverso file specifici molto rapidamente.
Ecco le novità della nuova versione 0.6 tratte dal sito del produttore:
* Added support for audio cds!
* Added GnomeCatalog import
* Migrated to devicekit-disks (removes HAL dependency)
* Rewritten symlink resolving (much much faster, resolves symlinks to symlinks)
* Blacklist support for extractor plugins that are unstable
* Added new translations (french, russian)
* Added support for mimeicons in custom icon themes (e.g. Tango on windows)
* Fixed a memleak in the libextractor binding
* Unified duration times
* Code refactoring
* Lots of bugfixes
Per installarlo su K|X|Ubuntu basta scaricare il file .deb dal link posto sotto cliccarci sopra e confermare oppure aprire il terminale  e scrivere:
sudo dpkg -i *.deb
e poi
sudo apt-get install -f
confermiamo e alla fine avremo il nostro Basenji installato.
Per maggiori informazioni consiglio di consultare il sito del produttore accessibile direttamente dal link posto qui sotto.
home
download basenji_0.6-0~karmic1_all.deb
download basenji-0.6.tar.gz