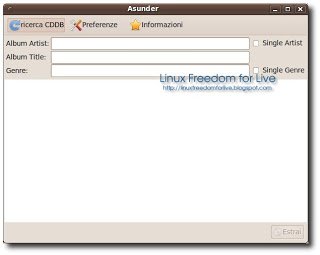 Asunder, applicazione che consente di convertire CD Audio in MP3, OGG, FLAC, WAV, Musepack, AAC, e Monkey's audio. L'utilizzo è semplicissimo inseriamo il cd audio nel nostro lettore e avviamo l'applicazione e clicchiamo su preferenze e scegliamo la cartella dove estrarre i file e la codifica. Possiamo modificare il titolo del nostro album, autore ecc al termine clicchiamo su Estrai  per convertire i nostri file audio.
Ecco le novità della nuova versione 1.9.2 tratte dal sito del produttore:
– Added Danish translation
– Updated Portuguese (Brasil) translation
– Try to minimize the risk of Asunder freezing during rip/encode
– Will now show progress as (1/1) instead of (0/1)
– Allow to edit the genre
– Do not allow invalid Windows filesystem characters in filenames
– Store the year in OGG metadata also
Per installarlo su K|X|Ubuntu basta scaricare il file .deb dal link posto sotto cliccarci sopra e confermare oppure aprire il terminale  e scrivere:
sudo dpkg -i *.deb
e poi
sudo apt-get install -f
confermiamo e alla fine avremo il nostro Asunder installato.
Per maggiori informazioni consiglio di consultare il sito del produttore accessibile direttamente dal link posto qui sotto.
Disponibile la nuova versione per trovarla basta andate in QUESTO post
home
download Ubuntu 10.04 Lucid 32 bits
download Ubuntu 10.04 Lucid 64 bits
download Ubuntu 9.10 Karmic 32 bits
download Ubuntu 9.10 Karmic 64 bits