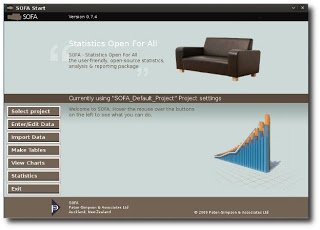 SOFA Statistics è un'applicazione per effettuare statistiche di ogni genere. Tra le caratteristiche più importanti dell'applicazione troviamo la facilità d'utilizzo garantendo ottimi risultati e tool innovative che troviamo in altre applicazioni commerciali.
Ecco le novità della nuova versione 0.9.6 tratte dal sito del produttore:
A Frequencies report table type was added to increase ease-of-use. Opening large data files is faster. The program can import from ods files from OpenOffice Calc and Gnumeric… spreadsheets. Action buttons on the report tables form are enabled and disabled automatically. The import button is disabled until file and table names are entered. More Close buttons were shifted to the bottom right. Clearer wording is used for the importer dialog to prevent confusion. The variable setting dialog is now positioned better. Numerous bugfixes and minor enhancements were made
Per installarlo su K|X|Ubuntu basta scaricare il file .deb dal link posto sotto cliccarci sopra e confermare oppure aprire il terminale recarsi dentro la cartella e scrivere:
sudo dpkg -i *.deb

e poi
sudo apt-get install -f
confermiamo e alla fine avremo il nostro SOFA Statistics installato.
Per maggiori informazioni consiglio di consultare il sito del produttore accessibile direttamente dal link posto qui sotto.