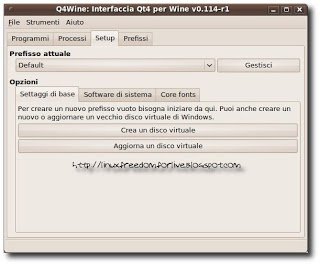 Q4wine è un qt4 GUI per Wine. L'applicazione consiste nella riscrittura delle API di Windows su di X, OpenGL, e Unix/Linux. Pensate a Wine come uno strato di compatibilità per l'esecuzione di programmi di Windows sotto Unix/Linux. q4wine non richiede Microsoft Windows, in quanto si tratta di una alternativa completamente gratuita delle API di Windows con il 100% di codice non Microsoft, tuttavia Wine può anche usare le DLL native di Windows nei casi in cui alcuni programmi ne necessitano.
Il progetto è solo agli inizi comunque possiamo dire di avere già a disposizione un'applicazione da considerarsi "stabile".
Ecco le novità della nuova versione 0.117-r6 tratte dal sito del produttore:
I'd like to inform all of you, about new q4wine release candidate. It is fully ready for testing and translation update process.
    * Current release goals: Wine AppDB browser;
    * Q4Wine helper;
    * Logging subsystem;
    * GUI improvements;
    * CMake scripts updates;
Ecco come installare Q4Wine su Ubuntu 9.10 Karmic

Apriamo il terminale e per prima cosa installiamo la la chiave d'autentificazione  e i Repository alla nostra Distribuzione scrivendo:
sudo add-apt-repository ppa:tehnick/tehnick && sudo apt-get update

ora installiamo Q4wine con un semplice:
sudo apt-get install q4wine
e confermiamo. Ora avremo la nostra Q4wine installata nella nostra Distribuzione
In caso di future nuove versioni ci basterà aggiornare la nostra Distribuzione.
Per maggiori informazioni consiglio di consultare il sito del produttore accessibile direttamente dal link posto qui sotto.